Cambridge Accredited Courses in High School
Learning in high school usually happens after a fixed curriculum that the schools have established. The students of the high school usually all follow the same curriculum and cannot personalise their learning experiences. 
One cool thing about high schools that teach the Cambridge International Curriculum is that it's very customisable. There are more than 70 IGCSE and more than 50 AS and A2 Level subjects that students can choose from. This advantage helps students create their personalized learning journeys with subjects they are interested in and need for University enrolment. 
In many traditional high schools, you might find a lack of courses that cater to the demands of our rapidly evolving world. These schools often miss out on offering unique, forward-thinking options that prepare students for the innovative times we live in. And this is why we want to fill that gap for ambitious students at Spark. 
Let's see what are some of the unique courses that might help you get closer to achieving your goals and get into the University of your dreams.
3 Unique Cambridge Accredited Courses at Spark Hybrid High School
Whether you're just beginning your high school journey or you're on your way to university admission soon, we've got you covered. Our selection of Cambridge Accredited IGCSE and AS & A2 Level courses is diverse and covers many different areas of interest. Here are some of the courses that our students love: 
By taking this course, you will learn how to:
Understand and appreciate the pivotal role of business in society, both on a global scale and within your own country

Cultivate a discerning perspective on organizations, their markets, and the process of value creation

Evaluate business practices from diverse stakeholder viewpoints, including owners, managers, employees, customers, suppliers, lenders, and government entities

Gain insight into the factors that shape business activities, spanning political, economic, social, technological, legal, environmental, and ethical dimensions

Develop crucial skills in quantitative analysis, problem-solving, decision-making, and effective communication
Course Pairings for Business A2 Level
Students can choose to take the Business A2 Level course in addition to other Cambridge courses like Economics, Mathematics, or Psychology. This type of pairing can provide a comprehensive foundation in business principles while also helping the students gain skills like quantitative analysis and strategic management. Pairing a Business course with a subject like Psychology can very much help in aspects of business like Marketing or Consumer behaviour analysis. 
Potential Career Options for students taking this course
Graduates of the Cambridge Business A2 Level course, coupled with courses like Economics, Mathematics, etc., are well-prepared for roles such as Business Analysts, Financial Analysts/Managers, and Management Consultants. They can also pursue careers in fields like Marketing Management, Supply Chain Management, and International Business Management. This combination of Cambridge courses equips students with a strong foundation in business and prepares them for success in a wide range of industries.
The aim of this course is to enable students to develop:
computational thinking skills

an understanding of the main principles of solving problems using computers

an understanding of the component parts of computer systems and how they interrelate, including software, data, hardware, communication and people

an understanding of the different methods of communication and the functionality of networks and the internet

the skills necessary to apply this understanding to develop computer-based solutions to problems
Other Cambridge Courses that go hand in hand with Computer Science
Pairing Computer Science with Cambridge courses like Mathematics, Further Mathematics, and Physics can provide a well-rounded education in computer science and related fields. These courses offer advanced mathematical and physical principles essential for understanding complex algorithms, computations, and electronic devices.
Career Options
This combination of courses can open up a wide range of career options for students in the field of computer science. Graduates can pursue roles in software development, data analysis, network administration, and more specialised areas such as cybersecurity or artificial intelligence. With such a diverse skill set, students have the flexibility to tailor their learning path based on their specific interests and career aspirations.
The Cambridge IGCSE Combined Science course offered at Spark gives students the opportunity to study Biology, Chemistry and Physics, each covered in separate syllabus sections.
This course aims to:
Provide an enjoyable and valuable educational experience for all students, regardless of further science studies

Equip learners to:

Become informed citizens in a technological world

Develop an interest in scientific matters

Prepare adequately for post-Cambridge IGCSE studies

Foster an understanding that science is evidence-based while acknowledging the strengths and limitations of scientific methodology

Cultivate skills applicable to both scientific study and everyday life

Promote a systematic approach to problem-solving and encourage safe and efficient practices

Facilitate effective communication using the language of science

Gain skills and attitudes relevant to science, including accuracy, objectivity, integrity, curiosity, initiative, and inventiveness

Foster an appreciation that science is influenced by social, economic, technological, ethical, and cultural factors and constraints

Recognize that applications of science can have both positive and negative impacts on individuals, communities, and the environment
Other Cambridge Courses that go with Combined Science
For those passionate about healthcare, courses like Biology and Chemistry provide a solid foundation for medical or healthcare professions. Alternatively, those interested in environmental science or sustainability may find value in the Cambridge Geography courses. Aspiring engineers and scientists can benefit from Physics and Mathematics to develop essential skills in engineering and science-related fields. Furthermore, computer science and IT enthusiasts may find value in courses like Computer Science and Information Technology for a robust foundation in programming, software development, and IT management.
The Impact of Cambridge Accredited Courses on University Admission
Whether you want to take a course because the university of your choice requires it or because you just want more knowledge that your local school can't offer,  these courses offer a unique opportunity to expand one's academic horizons and develop specialized knowledge and skills. 
Broadened Academic Horizons 
Studying extra Cambridge-accredited courses can significantly enhance a student's university admission prospects. It showcases a commitment to a well-rounded education that extends beyond the core curriculum. This willingness to explore diverse subjects demonstrates a genuine passion for learning and a proactive approach to education.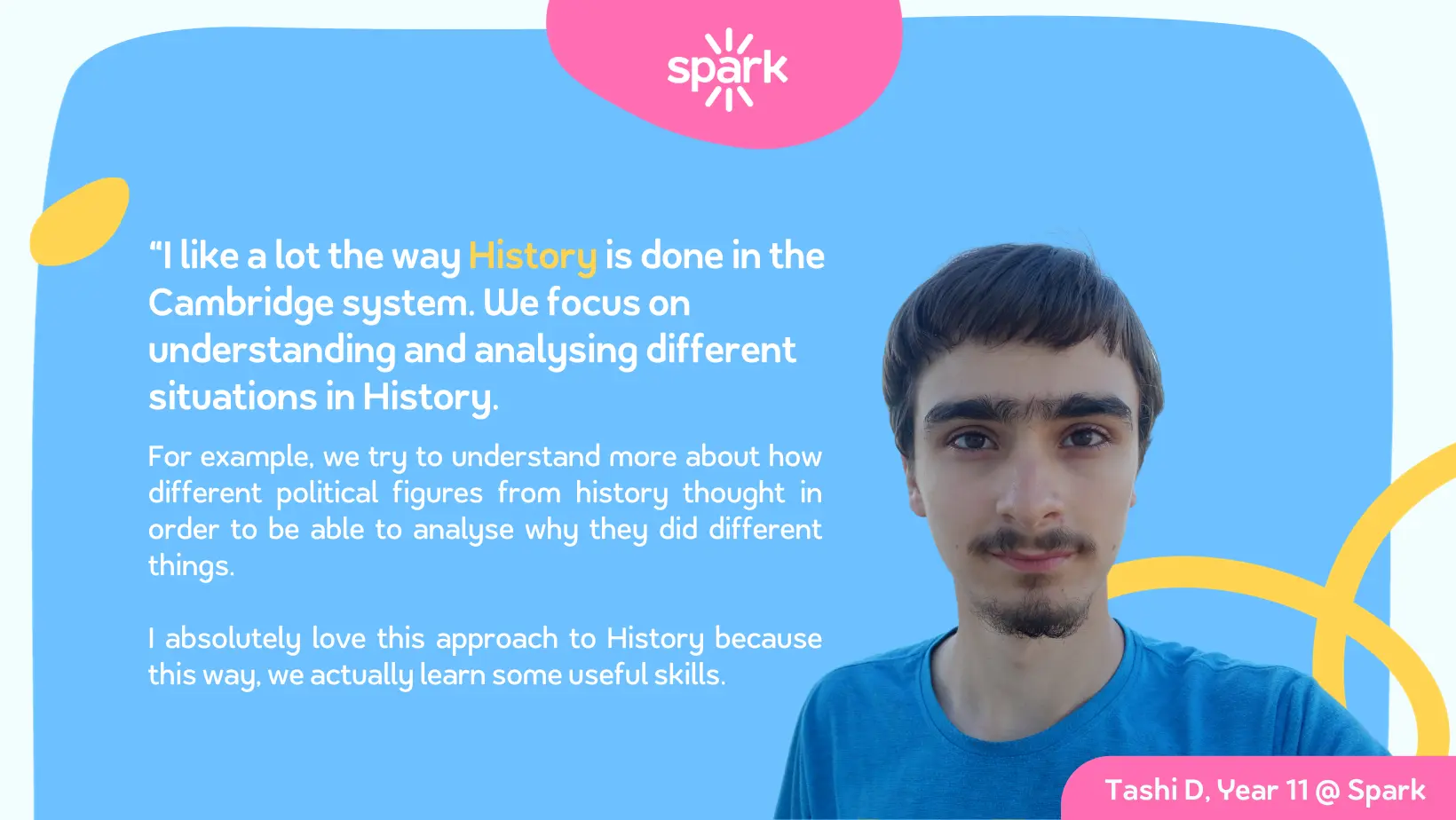 Specialized Knowledge and Enhanced Skills 
These courses allow students to delve deeper into specific areas of interest. This knowledge can be particularly advantageous for those aiming to pursue specialized degree programs at the university level. Furthermore, each course teaches students unique skills, whether it's critical thinking, problem-solving, research capabilities, or subject-specific expertise. These skills not only enrich their academic experience but are highly valued in higher education.
Take Tashi's feedback, for example – who studies IGCSE History:
I like a lot the way History is done in the Cambridge system. First of all, we do not do trivia (like dates, names, etc.) as many people imagine, and instead, we focus on understanding and analysing different situations in History.

For example, we try to understand more about how different political figures from history thought in order to be able to analyse why they did different things. I absolutely love this approach to History because this way, we actually learn some useful skills.

Another important feature is that we learn how not to be biased and how to always see the point of view of both sides in a conflict (i.e. History is never black and white). Therefore, I would strongly recommend this course even to students who don't like humanities so much (i.e. STEM students?) because it is very much based on critical thinking.
Demonstrated Passion and Academic Rigour
Beyond expanding one's knowledge base, extra Cambridge-accredited courses signify a true passion for the subject matter. This genuine interest can be a distinguishing factor in competitive admissions processes. Moreover, these additional courses often involve a higher level of academic rigour, indicating a readiness to handle more challenging coursework. This readiness prepares students for the intellectual demands of university studies, making them more attractive candidates for admission.
How to Enrol in Cambridge-Accredited Courses at Spark
For enrolling in any of these courses, students can take multiple routes. Whether they want a full high-school Spark experience or just a couple of courses to ensure a smooth university admission process, we have a solution. 
For high school enrolment, we advise students to visit our

Admissions

page and fill out the form to be followed up with a call from our admissions team. 
For individual courses, students can visit our

Bridge to University

page or buy them individually from the course pages. There, you can find some Learning Packages prepared exclusively for students looking to ace university enrolment. So, if that's you, you already know your next steps. 
For more information on courses, pairing, or career paths, we are always happy to have an introductory conversation to help you and your family establish your goals and decide what's best for you. 
In other words…
Exploring extra Cambridge-accredited courses proves to be a valuable asset for students, regardless of their academic goals. These courses not only broaden their scope of learning but also foster specialized expertise and critical skills. 
By demonstrating a genuine passion for education and a willingness to tackle more rigorous coursework, students position themselves favourably for university admissions. 
The diverse benefits of the Cambridge-accredited courses offered at Spark empower students to embark on academic journeys that are not only enriching but also open doors to lots of opportunities. Embracing this proactive approach to education, students can lay the foundation for a promising and fulfilling future.
Your Next Steps 
Here are some resources if you want to learn more about the innovative learning framework we've put together at Spark: 
Future-Ready Skills that Students at Spark Gain 
The difference between Spark Hybrid High School and traditional high schools 
How the Hybrid Learning Model at Spark Works
And, of course, if you have questions, our admissions team is more than happy to take over and fill you in on whatever information you might need in order to make the best choice for your academic journey. 
So, Contact us whenever you feel ready, and let's start bringing your wildest goals and dreams to life. ✨
Cambridge Accredited Courses at Spark FAQ
How do Cambridge-accredited courses at Spark Hybrid High School enhance the high school experience for students?
Cambridge-accredited courses at Spark offer tailored learning, going beyond the usual curriculum offered in most traditional high schools. Students can personalize their education, aligning with their interests and university goals, while also getting recognition for completing these courses in their university admission process.
How do Cambridge-accredited courses prepare students for University admission?
They provide a competitive advantage, showcasing specialized knowledge and critical skills that are necessary for mastering the Cambridge Curriculum. This demonstrates a passion for learning and readiness for rigorous coursework, making students attractive to universities. Some universities also require students to take a range of courses that might not be available at their local high schools. 
What are some unique Cambridge courses available at Spark Hybrid High School?
Courses like Business, Computer Science, and Combined Science are offered, besides subjects like Physics, Biology, Economics, German, Spanish, etc. And there's lots more available on the Spark website. These cover diverse subjects, from business roles to computational thinking and the sciences. Each equips students for higher education and future-ready careers.